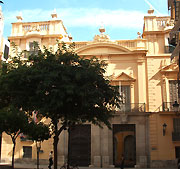 The City Museum is a former palace of nobles, currently housing 15th to 20th century art from the collections of the Valencian government and private homes. Almost all of the painting and scupltures are by Valencian artists. Some are good, some are bad, but all are unknown. If you like art you could find this interesting - it is a pioneer territory. Perhaps you will find someone who should have become famous but didn't. Most of the collection, however, is religious themes of 15th-18th centuries.

The museum also holds an exhibition of medieval weights and scales, and exhibition of medieval locks and keys, and a collection of various art donated by a private individual.
Art: 15-20th century, all major art movements, all Valencian
Size: large
Exhibitions: permanent only
The building: former palace of Valencian nobles. Although it has been changed a lot (unfortunately all the colours were painted solid mono in the Civil War) you can still appreciate a few rooms.
---
MUSEUM SERVICES
Free guided tours (in Spanish) - 1h 30 min will take you through the history of the building, functions of rooms, and will focus on major art pieces in the collection.
10.30, 12.30, 17.30, 19.00


Paginas Amarillas
Pz del Arzobispo, 3
Centro
Near: Cathedral
34 963 525 478, ext. 4126

Mon-Sat
10am-2pm
4.30-8.30pm
Sun + Hols: 10am-3pm
Mondays closed

Map of Art Galleries