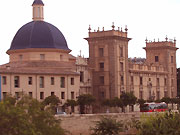 Apart from being an amazingly beautiful building, Museo de Bellas Artes is the second biggest art museum in Valencia, the second most important art collection in Spain, and it has nothing to do with modern art. This huge museum is filled with works from 14th century to the 19th. The museum is largely dominated by 13th-15th century iconography and the golden age of 17th century Baroque. But there are also works from the Rennaissance and the 18-19th century movements. You can find Nicolau, Alcanyis, Peris, Mateu, Esteve, Ribaltas, Espinosa, El Greco, Murillo, March and even the occasional Ribera, van Dyck, Bosch, Velazquez and Goya. The museum hall holds one of the Benlliure's mystical power-shots. There are also many archeological items on display, from as far as the Iberian period.
Temporary exhibitions:
the museums always has an extra (and large) exhibition which can be anything from ancient to modern art (although modern will not be contemporary - meaning end of 19th - first half of 20th century).
Art: mostly 14-15th century iconography and 17th century baroque, but also rennaissance and 18-19th century works. Most are Spanish, with a few foreign artists.
Size: large (2-3 hours)
Exhibitions: temp and perm
The building: a gorgeous baroque building built in 1683-1744, originally a seminary for secular clergy (i.e. a theology university) named College of San Pio V. Apart from exhibition halls, it holds a spacious high cupola and a cosy inner yard (cloisters)
---
MUSEUM SERVICES
Guides (Sp only) available with prior arangement. In the busy periods it has to be a group of min 7 persons. Brochures, cafe, bag storage + cloakroom, art library, art book shop with a good selection.

Paginas Amarillas
9, San Pio V
Near: Torres Serranos
just off Centro, north
website
96 387 0300


Tue-Sun: 10am-8pm
Mondays closed
free entry

Brochures:


Map of Art Galleries