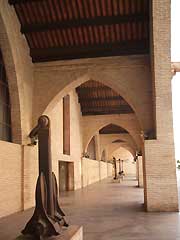 National Artistic Monument. These monumental and spacious arches of an ancient Gothic shipyard are a very dynamic art venue. Dedicated mainly to contemporary modern art (usually fairly unknown artists) from various countires. This large space holds many names at a time, changing frequntly (once a month more or less)
Temporary exhibitions:
Various fairly unknown names in modern art, changing frequently.
Art: modern, contemporary, international
Size: medium to large
Exhibitions: temporary only
The building: Reales Atarazanas (also known as Drassanes in Valenciano) were built in 1338 for building and repairing ships. They assumed their present look in 1500, after a reconstruction. During the War of Succession in XVIII century, Philip V made the Shipyards his headquarters. After the war, they became a depository for salt.
---
MUSEUM SERVICES
none

Paginas Amarillas
Pz. Juan Antonio Benlliure
Port / Beach
96 352 54 78, Ext. 4299

Tue - Sat
10am-2pm / 16.30-20.30
Sun + Hols: 10am-1pm
Mondays closed