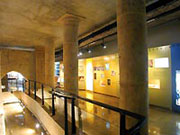 This is an underground modern art gallery right in the middle of Carmen. It displays contemporary works of international artists. The collection is arranged around the remains of a city wall from the Muslim period of Valencia, complete with a couple of interesting drawings of what Valencia looked like in the XI and XV centuries.
Temporary exhibitions:
constantly changing displays of modern contemporary artists.
Art: modern, contemporary, international
Size: small
Exhibitions: temporary only
The building: an underground structure arranged around the remains of a Muslim city wall.
---
MUSEUM SERVICES
brochures (Sp, En)

Paginas Amarillas
Pz de Tossal
Carmen
96 398 18 03

Tue - Sat
10am-2pm / 16.30-20.30
Sun + Hols: 10am-3pm
Mondays closed

Map of Art Galleries