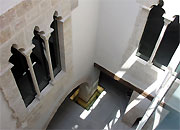 The Foundation of Chirivella Soriano is the only privately owned large art centre in Valencia. It is also the ony one that will charge you more than 2 euros. But it may well be worth it. This independence gives the team all freedom to explore all dimensions of modern art and bring it to you. You are assured an interesting vision. You can get a taste from their website. In addition to a well-picked temporary exhibition, there is a fairly broad permanent collection of modern Spanish art from 1957 on. All this housed in a small XIV century Gothic palace.
Temporary exhibitions:
Several curious exhibitions a year. This is where Andy Warhol's Factory was on display in 2005.
Art: modern, mainly Spanish

Size: medium
Exhibitions: temp and perm
The building: restored and converted XIV century Gothic palace with moorish elements.
---
MUSEUM SERVICES
brochures

Paginas Amarillas
Valeriola 13
Near: Mercado Central
Carmen
96 338 1215
website

Tue - Sat
10am-2pm / 5pm-8pm
Sun: 10am-2pm
Mondays closed
4€ normal
2€ students, under 14yo and over 65yo

Map of Art Galleries