Enabling Javascipt
What is that and how do I enable it??
You didn't come to this site to learn technical jargon, so apologies for that, but some parts of the site are not functional when Javascript (a programming language used in certain functions of web design) is disabled. Javascript gets blocked or disabled in the browser (the programme that you use to view websites - e.g. Internet Explorer or Firefox). This usually happens for two reasons:
1. Turned off on purpose
If you are using someone else's computer, e.g. in an internet cafe, the Javascript might have been turned off on purpose to avoid certain annoyances, such as pop-ups.
Re-enabling it is very straightforward an takes only a few seconds.
This page explains the steps graphically for Internet Explorer (in IE7 - the recent multi-tab one - you may have to press F10 first to call the Tools menu)
In Mozilla Firefox go to Tools > Otions > Content icon (image of the globe) > make sure the "Enable JavaScrpit" is ticked > OK > close and re-open Firefox.
2. Default security setting on newer Internet Explorer
On some newer versions of Internet Explorer the default security setting is protecting your screen from JavaScript (and many other useful things for that being), which is very annoying because you have to give it permission every time. Unfortunately the message you get at the top of the window is very vague and you don't even have an idea that it has to do with JavaScipt, e.g.: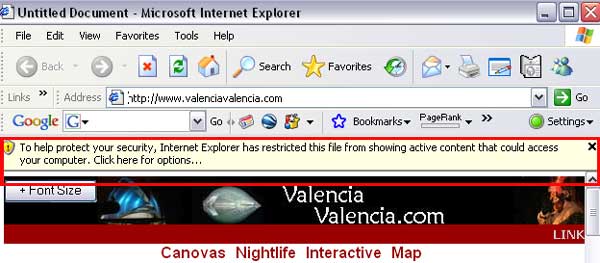 All it takes is to click on the message and select "Allow blocked content".