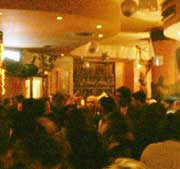 ---
Size: medium
Dance Floor: medium, spread out
Music: happy commercial dance, with latin and ethnic mixed in
Crowd: 20s - 40s who want to be seen, trendy, dressed, civilized, and making an impression
Dress: neat recommended
Sociability: the place is well arranged to allow plenty of social space. The crowd is fairly self-conscious.
---

Paginas Amarillas
12 C/ Calatrava
Carmen
Near: Pz de la Virgen
Entrance: Free
2.50€ beer 275ml bottle
6€ spirit/mixer

Tue - Sat
8pm - 3.30am
(until 2.30am in the week)
---

Carmen Map
The Gheko is an artwork of a decor - impressive rich ethnic african / asian theme. People are well dressed, well behaved and are having a refined night out amidst creative dance tunes. A classy and exotic vibe. One of the largest mainstream disco-bars in Carmen. And the cosy summer terrace outside is available for the pre-party drinks.