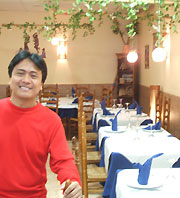 ---
(?) Menu del dia: 8.50€
Mon-Fri, 1.30pm - 4pm
Set Meals: 20€ for 2, 27€ for 3, 43€ for 4, 50€ for 5, 60€ for 6
full price - not per person,
any time of day and week

Cuisine: Phillippino trad and creative, some Spanish

Range: around 80 dishes, out of which about 25 meats, 10 rices, 8 seafood.
Ambience: classic Oriental

---

Paginas Amarillas
249 Av Puerto
96 316 4167
close to Port
| | |
| --- | --- |
| | 8-9€ main course |

Tue - Sun
1.30pm-4pm / 9pm-0am
closed Mondays
Languages:

Mayon is the only Phillippino restaurant in Valencia and it carries the flag with excellence, while being totally affordable. A huge range of typical Phillippino dishes is complemented with a few Spanish big hits. Furthermore, the chef and owner Daniel is extremely creative and accommodating and will spin his own twists on the traditional Phillippino cuisine, as well as gladly taking your requests. Not to mention his very genuine welcome, attentiveness and full ability to explain things in English. The interior is also very pleasing - with a relaxing classic Oriental vibe and an open-air terrace in the summer. Alltogether, a very pleasant experience.