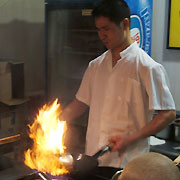 ---
Do it yourself, all you can eat:
Mon-Fri day: 8€
evenings + w/e: 12€
child: 6 / 8€ respectively
Set meals, 4 countries: 18-35€

Cuisine: Asian Fusion

Range: around 60 dishes - China, Japan, Vietnam, Malaysia, Thailand. Wide range of sushi, teppanyaki, tempura.
Ambience: Intimate, Oriental, Modern

---

Paginas Amarillas
30 Avenida Baleares
CAS
Tel: 96 381 61 46


Paginas Amarillas
Av. Maestro Rodrigo
North West
Tel: 96 385 91 52
| | |
| --- | --- |
| | from the menu prices are very varied, 5-20€ |

every day
1 pm - 4.30 pm
8 pm - midnight
Languages:

Now here is an original idea. It is Asian fusion in the full sense, the catch is - you are the one doing the fusion! You have a large buffet of raw ingredients, you mix them any way you want, pass it on to the Wok King, choose an Oriental sauce, the guy throws it into a wok for a couple of minutes and here it is - your own recipe. Will thrill any health food or vergetarian enthusiast. Another guy will do the teppanyaki - grill - for you. Do it again and again, it is all you can eat. The buffet also includes sushi, exotic fruits and salads. If you don't want to "cook", there is also an ample menu with dishes from China, Japan, Thailand, Vietnam and Malaysia. They can also offer you a set meal from any of those countries. A very pleasant intimate interior with a rich oriental decor.