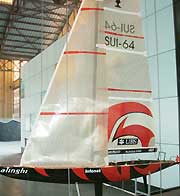 This one is for the fans of the America's Cup who want to savour images of the past, or for those who know nothing and would like to get an idea (scroll below to read about America's Cup). The cubic building (Casa de la Copa America) holds four screens which will tell you the whole story from the Cup's origins in 1851 to present day. Outside, in one of the old port pavillions adjacent to the building, you can view models of all of the winners through history and see how the design of the yachts (so crucial in this competition) has changed over time.
MUSEUM CONTENT
Viewing time: 1h 30min
(approximate)
What it is about: history of America's Cup
In Detail: main phases in 155 years of Cup's history, plus a model of every winner yacht.
Presentation: audio-visual historic footage, yacht models
The building: a pavillion constructed for the museum
---
MUSEUM SERVICES
The Casa de la Copa America will give you an audio-guide (Sp or En) to plug into your ears for watching the historic footage.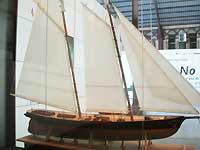 GENERAL INFORMATION


At the main entrance to the Port

Mon - Thur
11am-2pm / 4pm-8pm
Fri - Sun
11am-3pm / 4pm-8pm

free entry
Languages
Museum Content:



Brochures:
none
Guides:
none