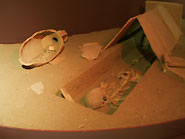 (Also known as Valencian Centre of Mediterranean Culture, or simply as La Beneficiencia). The name says it all - the museum is dedicated to prehistory of humans in the area, from the origins of Homo Sapiens to the beginning of Roman colonisation. This is a very, very big museum - you can even get lost. Most of it are rows after rows of various tools, bones, coins, and items dug out in excavations of Valencia province. They will probably look the same as in your own country, unless you really know your archaeology. In general, you will be very quickly bored unless you are a pro in the field.

However, the Beneficiencia building also houses Museum of Ethnology which is quite a lot more interesting.
Temporary exhibitions:
The museum usually has one or two extra exhibitions along the same lines as the permanent one, but with a more specific focus.
MUSEUM CONTENT
Viewing time: 1h 30min
(approximate)
What it is about: Valencian anthropology up until the Romans
In Detail: Valencian archaelogy, prehistoric human, paleolitic, neolitic and iron age cultures, Iberian cultures, Roman culture in Valencia
Presentation: mostly archaeological finds, although also some charts, videos and models.
The building: worth seeing as an example of valencian style, especially the inner yards. Former orphanage La Beneficiencia.
---
MUSEUM SERVICES
Bag storage (compulsory), and very good bookshop with a huge range for a real intellectual
GENERAL INFORMATION

Paginas Amarillas
C/ Corona 36
Centro
Near: IVAM
96 388 35 65
website

Tue - Sun
10am - 8pm
Monday closed

free entry
Languages
Museum Content:


Brochures:


Guides:
n / a