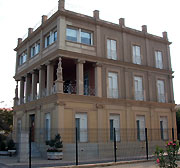 You may have heard of the "Four Horsemen of the Apocalypse" - a WWI novel which was at some point the second most read book (after the Bible) in USA. Although Blasco Ibanez himself was a fascinating figure, worthy of your interest, this museum is hardly worth the detour. The famous writer was a controversial, revolutionary figure and two generations of dictatosrhip tried to wipe out his identity. There is nothing left of his living quarters. Now it is just a small collection of his personal belognings and books. However, if you understand Spanish the guide will tell you many interesting things about this fascinating man. But generally, it is too far to be worth the trip.
MUSEUM CONTENT
Viewing time: 30-45 min
(approximate)
What it is about: biography of Blasco Ibanez (1867-1928) - a famous Spanish novelist
In Detail: personal belongings, portraits, bibliography, house.
Presentation: items, drawings, some charts.
The building: a house bought and planned by Blasco Ibanez, his home where he worked.
---
MUSEUM SERVICES
Guided tours, 45min in Spanish:
Sat 6pm, 7pm
Sun 12.30, 13.30
GENERAL INFORMATION

Paginas Amarillas
Isabel de Villena, 157
Port / Beach (north)
96 352 54 78 ext.:2586

Tue - Sat
10am-2pm / 16.30-20.30
Sun + Hols: 10am-3pm
Mondays closed

Municipal Scheme
Languages
Museum Content:



Brochures:
none
Guides: