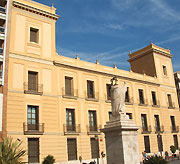 Although it has a simple look, the Cervello palace is one of the most important historical sites in Valencia. The well-made audiovisual exhibition inside recounts some of the Valencian history of XIX century and the visits of Spanish monarch to the palace, as well as their deeds. The museum also houses one of the oldest and best preserved European archive of records, mainly legal and commericial - up to 700 years old books written in old Valenciano. You will be plunged into the atmosphere of medieval merchant Valencia. There is also 19th and 20th century city photography and a tour of the well restored interior of the palace with some interesting decor dating as far back as XVIII century.
MUSEUM CONTENT
Viewing time: 1 hour
(approximate)
What it is about: Valencian history
In Detail: Spanish monarchy of XIX century, history of the palace, medieval treasury records and literature, interior of the palace
Presentation: items on display, documents, records, letters, drawings, audiovisual, projections, photos, palace interior, paintings, interactive screens
The building: this is a very important building in Valencia. Built in 18th century by the Counts of Cervello, it was ceded to Spanish monarchs as their summer residence, following the destruction of the Royal Palace during the Napoleonic Wars. Re-institution of absolute Spanish monarchy in 1813 occured exactly here, and the palace saw all of the monarchs throughtout the 19th century. During the 1930s, the palace was occupied first by the right-wing party, and then by the Communist party.
---
MUSEUM SERVICES
Free guided tours (Spanish, Valencian, English - call to check for Italian and French)
Duration: 40-50 min
Mon-Sat: 10.15, 11.15, 12.15, 13.15, 16.45, 17.45, 18.45, 19.45
Sun + Hols: 10.15, 11.15, 12.15, 13.15
Books on Valencian history and culture on sale.

GENERAL INFORMATION

Paginas Amarillas
Pza Tetuan 3
Centro
Near: Glorieta
963 525 478, ext. 4496

Tue - Sat
10am - 2pm
4.30pm - 8.30pm
Sun+Hols: 10am-2pm
Closed Mondays

Municipal Scheme
Languages
Museum Content:



Brochures:
none
Guides:



book before: