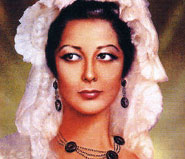 Concha Piquer was a famous singer of Copla (a specific music style, popular in the 30s and 40s in the Hispanic world). The museum is here because she happened to be Valencian. It is a small museum, covered mainly in photographs and biography boards. It looks more like a photography gallery, although there are also a few dresses and accessories. Since the museum is in her family house, the upper floor shows what her living quarters were like when she was a child (1910s). The museum is small, fairly unimaginative, and out of the way. Unless you are a die hard fan of Concha Piquer, you will want to skip it.
MUSEUM CONTENT
Viewing time: 30 min
(approximate)
What it is about: biography of Concha Piquer - famous Spanish singer of 1930s-40s
In Detail: the museum is in her childhood house and displays the ambience of the time, as well as Concha's full life in photos.
Presentation: photos, story boards, costumes, accessories, living quarters, video (10 min)
The building: a typical working class house of the 1900s
---
MUSEUM SERVICES
Ask to see a video made by the Valencian TV channel about the life of Concha (10 min, in Valenciano). You won't understand the language but you will see plenty of images and hear her music.
GENERAL INFORMATION

Paginas Amarillas
Calle Ruaya, 23
North of the river
34 96 348 56 58

Tue - Sat
10am - 2pm
4.30pm - 8.30pm
Sun+Hols: 10am-3pm
Closed Mondays

Municipal Scheme
Languages
Museum Content:



Brochures:



Guides:
none