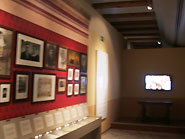 In the same Beneficiencia builiding as the Museum of Prehistory, this museum focuses on our evolution as society.

The permanent, fairly small, exhibition is called "Valencia in Transition 1800-1940". It is a very atmospheric and profound look at the city from many different angles and is a treat for a history lover. Plenty of epoch items and models, photos and authentic film footage. It really lets you get to know the Valencia of the past, of which you now see only a few traces.

Incredibly well put together with multimedia, artistic touch and interactivity, the museum also goes a lot deeper. It explores various social themes on the example of Valencia, e.g work, classes, privacy and public life, co-existence, reaction to change, etc. Those concepts here are operated beautifully and give you plenty of food for thought and reflection. Unfortunately, the exhibiton is in Spanish and Valencian.
Temporary exhibitions:
The museum usually has one or two extra exhibitions, also exploring various facinating aspects of our social evolution.
MUSEUM CONTENT
Viewing time: 40-50min
(approximate)
What it is about: society
In Detail: Valencia's transformation in 1800-1940, the concept of city, aspects of a city, human co-existence and creativity in a city. Temporary exhibitions with specific themes.
Presentation: Items, charts, photos, film footage, video, multimedia, computer generated footage, audiovisual presentations, interactve screens.
The building: worth seeing as an example of valencian style, especially the inner yards. Former orphanage La Beneficiencia.
---
MUSEUM SERVICES
Bag storage (compulsory), and very good bookshop with a huge range for a real intellectual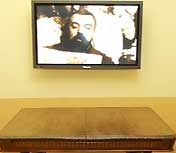 GENERAL INFORMATION

Paginas Amarillas
C/ Corona 36
Centro
Near: IVAM
96 388 35 65
website

Tue - Sun
10am - 8pm
Monday closed

free entry
Languages
Museum Content:


Brochures:


Guides:
n / a