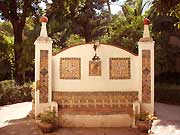 The Benlliure were a famous family of artists at the turn of XX century. The most famous was Jose but there was also Peppino, his son, and Mariano, his brother. This house tells their story. The living quarters of early 20th century serve as a history museum. There is also a cosy garden full of great traditional Valencian ceramics. There is a very tasteful video of Jose's career (full of art images of those times) and his studio where he kept his collection of incredible antiques, from weapons to paintings and musical instruments, for inspiration. The atmosphere of the studio is still intact. Two top floors of the house hold his and Peppino's works, although they are not great - leftovers from museums and private collections nationwide. All in all, although Benlliure is not that important to you, this is a very atmospheric, beautifully created and emotional exhibition leading you into the inner world of Benlliure and their sometimes tragic life.
Temporary exhibitions:
One of the halls in the house is permanently reserved for rotating exhibitions of current valencian artists.
MUSEUM CONTENT
Viewing time: 1 hour
(approximate)
What it is about: life and work of the Benlliure family - famous Valencian artists of early 20th century.
In Detail: living quarters, ceramics garden, artist's studio, Jose's life, galleries of artworks.
Presentation: furnished rooms, epoch items, charts, video (20 min in Sp), paintings.
The building: original home of the Benlliure, a typical middle class household of the turn of XX century.
---
MUSEUM SERVICES
guides are usually for groups (5+) but if you are really really interested they may be flattered enough to show you around. There is no fixed schedule - just subject to availability of a running around art student. Call in advance to be sure.
GENERAL INFORMATION

Paginas Amarillas
23 Blanquerias,
Centro
96 391 16 62
Near: IVAM

Tue - Sat
10 am - 2 pm
4.30 pm - 8.30 pm
Sun + Hols: 10am-3pm
Mondays Closed

Municipal Scheme
Languages
Museum Content:



Brochures:
none
Guides: