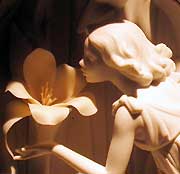 The Lladro porcelain figurines are the ultimate art of Valencian ceramics. It is an incredible vision. The Lladro City of Porcelain will give you a guided tour through the factory. You will follow a figurine made from scratch and every artist at his workplace will explain his part of the process. It will make your jaw drop. There are also video presentations of the history and principles of Lladro. The compex holds a large exhibition / shop where you can view most of Lladro works currently in production. It makes for one of the best art galleries in town.
MUSEUM CONTENT
Viewing time: 2h 30min
(approximate)
What it is about: the artworks of Lladro and process of their creation
In Detail: history of Lladro, principles of Lladro, creative process of figurines presented by the artists.
Presentation: video, factory tour, presentation by artists, exhibition / shop
The building: Lladro mega-complex the City of Porcelain.
---
MUSEUM SERVICES
The tour (Sp, En, possibly Fr, It) around the Lladro factory is guided. You can book online 15 days in advance or sooner by phone. You could also just pop in to the shop but it is not guaranteed that they will fix you to a tour without booking.
GENERAL INFORMATION

Paginas Amarillas

City of Porcelain
Carreterra Alboraya
Outskirts North
(see directions below)
900 21 10 10
96 318 70 08
www.lladro.com

Mon - Thur
9am-2pm / 3pm-6pm
Fri: 9am-2pm only
Closed Sat + Sun
(These are times for visiting exhibition/shop alone. Guided tours of the facitlity are pre-booked more rigidly.

free entry
Languages
Museum Content:



Brochures:



Guides: