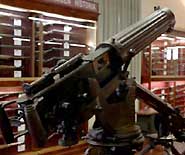 This museum has probably the biggest thematic collection of all Valencian museums. Some things in this world just never change. Anything to do with the military is on display, from pistol rounds to tanks and military "dining trucks" (do they exist outside of Spain??). Although there are a few medieval and early modern items (including a 13th century handgun!) the museum focuses mostly on the end of 19th and 20th century, especially on the Spanish Civil War of 1930s. They even rotate "The Piece of the Month" on display. Apart from rows of weaponry and inventory, there are also many good models (e.g. of castles, fortifications and battles). If you can read Spanish you will find the museum also goes into the trouble of explaining to you how different army units, weapons and strategies work on the battlefield and how they evolved. It is actually a real informative and educative museum, not just a pile of guns. If the military is your thing, you will love it.
MUSEUM CONTENT
Viewing time: 1h 20 min
(approximate)
What it is about: military history
In Detail: uniforms, machinery, firearms, munitions, artillery, engineers, cavalry, logistics, sanitary, fortifications, history, civil war, peace missions
Presentation: weaponry, inventory, uniforms, vehicles, models, charts, drawings, paintings.
The building: a hundred year old barracks that has been used (and still is) by various army units ever since. It does, nevertheless display typical Valencian style with ceramics.
---
MUSEUM SERVICES
Guides available on request. Your bag and camera will be taken off you in a very military fashion as soon as you come in.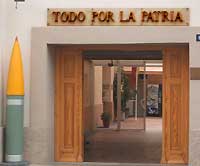 GENERAL INFORMATION

Paginas Amarillas
C/ General Gil Dolz 6
Aragon
Near: Mestalla stadium
34 963 601 645
website
Make sure you get the right door - there are two and one of them is always closed with "open 9am-1pm" sign on it. You want the one that has only one, not two, rocket outside.

Tue - Sat
10am - 2pm
4pm - 8pm
Sun + Hols: 10am - 2pm
Mondays closed

free entry
Languages
Museum Content:




Brochures:



Guides: