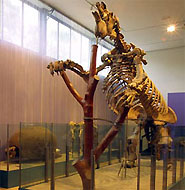 Natural sciences museum actually focuses on a slightly more narrow topic: the origins of the universe, the origins of life and the evolution up until the dinosaurs. Although there are a few spectacular animations, generally the collection is not that big. It is mainly composed of bones, various fossils, a few models and animations. The highlight is a few small-ish dinosaur skeletons.

The museum gives a lot of attention to Valencia. One section is dedicated to the contribution of Valencian scientists to world knowledge (there are various scientific tools and principles on display). Another section explains Valencian ecosystems in charts and video footage, specifically Albufera.


MUSEUM CONTENT
Viewing time: 40 min
(approximate)
What it is about: origins of universe and life
In Detail: Valencian scientists, Valencian ecosystems, big bang, evolution of the universe, fossils, dinosaurs, mollusks, science and art.
Presentation: video (Sp), scientific tools, interactive screens, bones, fossils, charts, computer animations
The building: of no interest
---
MUSEUM SERVICES
Guides are offered for free to a group of 5 people or more, in Spanish only.
GENERAL INFORMATION

Paginas Amarillas
Jardines de Viveros
(in the centre of park)
34 963 525 478, ext. 4313

Tue-Sat
9.30-2pm / 4.30-8pm
Sun + Hols: 10am-8pm
Monday closed

Municipal Scheme
Languages
Museum Content:



Brochures:



Guides: