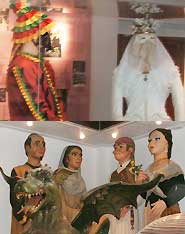 The Corpus Christi fiesta is the third biggest spectacle after the Fallas and Easter in Valencia. As with the other two, if you miss it there is a museum which will almost transport you there. Although Corpus Christi is a world-wide celebration, Valencia has its unique features, so the museum is worth visiting as a cultural curiosity. The museum has all of the Rocas (tall ceremonial stage-carriages pulled by horses), costumes used in the traditional dances and processions (including some very strange ones) and the walls covered in photos and explanations of how all this stuff is used every year. Valencian Corpus is a unique cultural phenomenon and visiting this museum is definitely a part of the itinerary.
MUSEUM CONTENT
Viewing time: 40 min
(approximate)
What it is about: Fiesta of Corpus Christi
In Detail: ceremonial Rocas carriages on display, explanation of each Roca, history of Corpus, processions of Corpus, elements of Corpus
Presentation: rocas, costumes, photos, charts, storyboards, drawings, props and regalia used in Corpus
The building: a medieval barn of XV century, constructed specifically to keep the Rocas.
---
MUSEUM SERVICES
if you are a group you can ask to be shown a video of the Corpus Christi fiesta - 25 min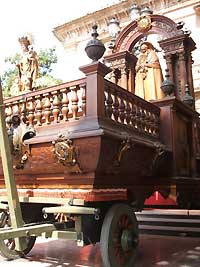 GENERAL INFORMATION

Paginas Amarillas
c/ Roteros, 8
Centro
Near: Torres Serranos
96 315 31 56

Mon - Fri, 10am-2pm
Weekends + Hols closed

free entry
Languages
Museum Content:


Brochures:


Guides: