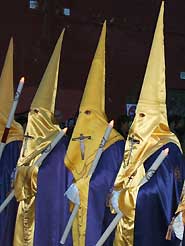 Semana Santa (Holy Week, Easter) is the second biggest fiesta in Valencia after Las Fallas. Ten days packed with colourful processions in the maritime district of Cabanyal. Although it is a world-wide celebration, Valencia has its unique features. It has the most colours in Spain - there are 28 brotherhoods participating, and each has their own uniform and regalia. Well worth seeing it live, but if you can't, you will see all those colours on display in this museum - all of the uniforms, imagenes, and regalia. The screens will also run videos of all the processions for you to get a taste.
MUSEUM CONTENT
Viewing time: 40-50 min
(approximate)
What it is about: Holy Week in Valencia
In Detail: All of the 28 brotherhoods are represented with their uniforms, imagenes and regalia, plus the video projections of processions.
Presentation: uniforms, imagenes, regalia, photos, explanation boards, video.
The building: part of the old rice factory, where Museum of Rice is now stationed.
---
MUSEUM SERVICES
If you can't see the videos and can't hear the music, ask the ticket booth to put it on - it is called aduiovisual. Sometimes they have to be told.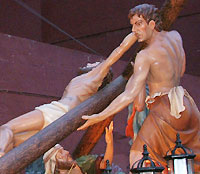 GENERAL INFORMATION

Paginas Amarillas
3 Calle Rosario,
Port / Beach
Near: Port
96 457 34 35


Tue - Sat
10am-2pm
4.30-8.30pm
Sun + Hols: 10am-3pm
Mondays closed

Municipal Scheme
Languages
Museum Content:



Brochures:



Guides:
none