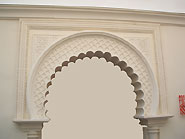 The Admiral's Baths were built in 14th century. Although constructed by Christians shortly after the reconquista, they were built to an Arab model and used as public baths since then until 1959. Valencia had 10-15 similar baths in old times but Banos Almirante are the only one that survived.

Now fully restored, the baths are a pleasant and calming spectacle. You will be shown a short video of the history and the process of bathing. After you have seen all the rooms (with explanations) you will view the characteristic roof and a computer generated model of how Banos Almirante functioned. All viewing is a 25 min audio-tour at specific times (every half an hour).

Although it might not be the most fascinating subjects, this installation gives you a relaxing and curious half an hour. An oasis of tranquility in the middle of the city, there is something Zen about it. Somehow, you come out feeling like you've just had a bath and ready for more walking.

The door will remain closed until the previous tour is finished, so wait outside.

MUSEUM CONTENT
Viewing time: 25 min
(approximate)
What it is about: a beautifully restored Arab bath complex from 14th century
In Detail: video on bathing at the times, history of the baths, rooms with explanation of functions, how the baths work.
Presentation: audio-tour, video projection, computer generated sequence.
The building: curious Arabic architecture
---
MUSEUM SERVICES
audio-tour every half an hour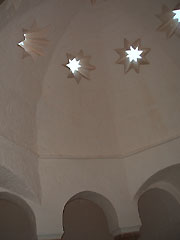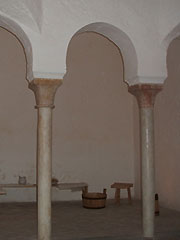 GENERAL INFORMATION

Paginas Amarillas
Banos del Almirante, 3
Cenro
Near: Cathedral


Tours Tue-Sat: 10am, 10.30am, 11am, 11.30am, 12pm, 12.30pm, 1pm, 1.30pm, 6pm, 6.30pm, 7pm, 7.30pm
Sun + Hols:10am, 10.30am, 11am, 11.30am, 12pm, 12.30pm, 1pm, 1.30pm,
Mondays closed

free entry
Languages
Museum Content:



Brochures:



Guides:



Map of Central Sights
Map of Central Walks