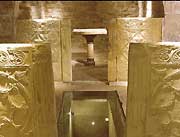 The Crypt of San Vicente is one of the most ancient parts of Valencia. Originally a Visigoth chapel from 6th century AD, it was converted into palace baths during the Muslim rule. After the reconquista King Jaime built a chapel on the remains, dedicated to San Vicente Martyr. In addition to the cross-shaped restored Visigoth chapel, the crypt also hosts a part of Roman house ornament, left from the surrounding houses of the Roman nobles, and a corner of a huge Visigoth cathedral this structure was a small part of. As such, the crypt truly spans the entire history of Valencia and is a treat for a history lover. Normally you can just walk in and see the ruins. However, on their own they are silent and might not impress you that much unless you really know your archaeology. Book the audiovisual - it is amazing. Scroll down to read about it below.
MUSEUM CONTENT
Viewing time: 30 min
(approximate)
What it is about: archaeological ruins dating from VI century AD.
In Detail: a reserved tour will take you through the building's function in visigoth, muslim and middle age times.
Presentation: the ruins, archaeological items, audiovisual tour (optional)
The building: the crypt is currently under a residential building
---
MUSEUM SERVICES
audiovisual tour (in Sp or En) by reservation (call or book in the City Museum opposite the crypt)
Tue-Sat: 10am, 11.30am, 1pm, 6pm, 7pm
Sun + Hols: 10.30am, 11.30am, 12.30pm, 13.30pm
Duration: 25 minutes
GENERAL INFORMATION

Paginas Amarillas
Pz de Arzobispo, 3
Centro
Near: Cathedral
96 394 14 17

Tue - Sat
9.30 - 2pm/ 17.30 - 8pm
Sun + Hols: 9.30 - 2pm
Monday closed

Municipal Scheme
Included in price: brochure and audiovisual tour on resuest
Languages
Museum Content:



Brochures:



Guides:


audiovisual