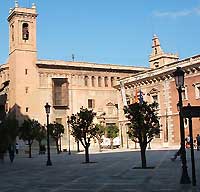 Plaza del Patriarca, like Plaza Tetuan, is another one of those places that attract nice buldings like moths onto a flame. It is a wide pedestrian space close to the administative part of the city centre, an ancient university square which picked up on the humanities as far back as XVI century. First, there are the heavy doors of the Colegio del Patriarca - a monumental Renaissance courtyard founded by a famous Spanish reformer (later canonised) of the 17th century. Then, there is La Nau - another Renaissance complex, a Literary University founded in XVI century and an art gallery. Just round the corner is Museo de Ceramica, and the rest of space is taken by a mixture of interesting modern and not so modern buildings.
SERVICES
n / a - public square

Paginas Amarillas
Pz del Patriarca
Centro

public square. La Nau can be visited during study hours and Colegio del patriarca is now an art museum.

for entrance fees to Colegio del Patriarca see here.
Languages
Signs / Content:
n / a
Brochures:
n / a
Guides:
n / a

Map of Central Sights
Map of Central Walks