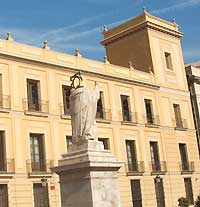 Plaza Tetuan is one of those places in Valencia that just happen to be a cluster of things to see with nothing in common between those.

Convento de Santo Domingo is a large, atmospheric monasterial complex that will remind you of the Imperial days. A mixture of Gothic, Renaissance and Neo-classical, it dates from as far back as 14th century.

Right opposite it is Palacio de Cervello. Although not particularly anything special visually, it is a very important building in Valencia - used as a royal residence during the 19th century, Those rooms have seen hugely historic events and are currently housing a museum on the topic (also lets you see the refurbished interior).

A few meters down is the small park of Glorieta where you can soak up the Spanish afternoon among some very curious trees. As you walk towards there, note the high bank building on your right, it is unbelievable.

On the other side of the Glorieta you can see the Puerta del Mar - a kind of Valencian Triumphal Arch, with the full symbolism and insignia of Valencia. These gates used to be part of the city walls, much like Torres de Serranos or Quart, but they were moved, stone-by-stone.

The roundabout of Puerta del Mar also holds the Palacio de Justicia (Court), a neo-classical building of 18th century worth a quick look.

Also within a few metres of Plaza Tetuan in a slightly different direction is the Chapel of San Vicente Ferrer.
SERVICES
none - public space

Paginas Amarillas
Pza Tetuan
Centro

Convento Sto Domingo can be visited only by apointment or during religious special occasions. For Palacio de Cervello see here.

for prices to Palacio de Cervello see here.
Languages
Signs / Content:
n / a
Brochures:
n / a
Guides:
n / a

Map of Central Sights
Map of Central Walks