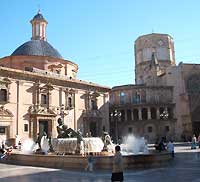 In the City of Contrasts, Plaza de la Virgin dominates one end of the spectrum as the counterweight to the City of Arts and Sciences. It is seen by many as the ultimate impression of the traditional Valencia of the past centuries.

No wonder - Plaza de la Virgin used to be the main square of Valencia, right from the Roman origins to the day when Plaza de Ayuntamento came into full swing at the turn of the XX century. It is still a very active place, with most of the city traditional events passing through here. The irresistible charm of the Plaza is figured on many postcards and all the tourists agree that it is simply the best view for having a coffee on one of the summer terraces.

The Plaza breathes with history, hosting three buildings of huge importance to Valencians.

Basilica de Virgen de Los Desamparados is the second most important religious structure after the Cathedral, one of the first Baroque buildings in Spain and constructed in a traditional Spanish stye with a blue tiled dome. It is host to the hugely revered statue of Virgen of the Forsaken - the patron saint of Valencia. There are various supernatural myths about this statue. The interior is also very worth seeing.

Palau de Generalitat is the seat of the Valencian Autonomous Region government, an imposing castle-like structure blending the late Gothic and Renaissance architecture with Moorish themes.

The rear of the Cathedral also forms part of the square. The rear turret, the Gothic portal of the Apostles (where the Water Court meets every Thursday) and the curiuos colliseum-style colonnade harmonically blend with the Basilica and leave the tourists entranced.

History: this place has been here always, since the Roman times. The current look began forming in 13th century with the construction of the Cathedral, the portal of the Apostles finished in the frst third of 14th century. In the 15th century the Palau de Generalitat was built (then a tax office for the Crown) and, finally, in 17th century - the Basilica. In the beginning of the 20th century the old City Hall in front of the Palau was taken down and a garden built in its place.

SERVICES
None - public space. Religious service in the basilica: 8.30, 9.30, 10.30, 11.30, 12.30, 13.30, 17.30, 18.30, 19.30, 20.30 every day.

Paginas Amarillas
Pz de la Virgen
Carmen

No access to the Palau. Access to the Basilica during service times only. For access to the Cathedral see here.

Entrance to the Basilica is free. For the Cathedral prices see here.
Languages
Signs / Content:
n / a
Brochures:
none
Guides:
none

Map of Central Sights
Map of Central Walks