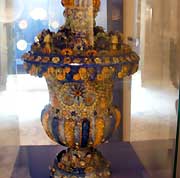 The big part of the museum is the fact that it is located in a gorgeous Rococco palace. The amazing entrance is one of the Valencia's landmarks. You can enjoy the luxurious splendour of the rooms, some of which are kept in the original Gothic style of XV century, and others bring you back into the age of salons, orientalism and ballroom dancing. There is even a carriage entrance complete with a few carriages. All rooms, in addition to luxurious interior, hold fine examples of ceramics. There is even a fully equiped typical Valencian kitchen made 100% of ceramics from top to bottom, and a porcelain room where most things are of coloured porcelain artwork. The top floor has a large collection of ceramics from prehistoric times to Islamic samples and exquisite modern works. You can see how ceramics have evolved over time and marvel at how incredible they can be. You can also find out about the history and process of ceramic making.
Temporary exhibitions:
There is always a small art or ceramic exhibition on the bottom foor
MUSEUM CONTENT
Viewing time: 1.5 hours
(approximate)
What it is about: a noble palace and ceramics.
In Detail: incredible palace interior with many rooms, a collection of ceramics from prehistory to modern, history and process of ceramics making.
Presentation: furnished interior, ceramic and porcelain items, video, charts, interactive screens.
The building: Originally of XV century (with a few Gothic rooms still intact), this palace kept growing and changing. The unbelievable entrance was done in 1740, and the rest of the outside finished in 1854. The interior exhibits the splendour of 18th-19th century palace life in Valencia.
---
MUSEUM SERVICES
brochures, small bookshop with books about the palace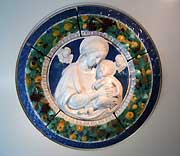 GENERAL INFORMATION

Paginas Amarillas
Rinconada García Sanchiz, 6
Centro
Near: Pz Ayuntamento
96 351 63 92
website

Tue - Sat
10am-2pm / 4pm-8pm
Sun + Hols: 10am-2pm
Mondays closed

2.40€ - normal
1.20€ - groups
free - under 18, over 65, unemployed
Sun + Sat afternoon:
free for all

Languages
Museum Content:




Brochures:

Guides:
none