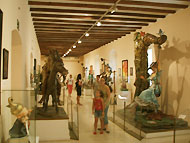 If you are not here for Las Fallas, here is your chance to get a very good idea of what it is (although Museum of the Fallero Artist is better, but further). This festival, internationally known, is unique to Valencia and so spectacular and strange that your visit will be incomplete without having a taste of it, whatever time of year you come. Every year one ninot (a figurine of a falla) is saved from fire and placed into this museum. They are so well made, that it is like being in the wax museum of Madamme Tussauds, only much more amusing (the fallas are traditionally humorous). It is also an interesting insight into the Valencian psyche, as the figures are saved by the popular vote. You will see representatives from the last 80 years of Las Fallas, as well as atmospheric posters, pictures of the best fallas and portraits of Fallera Mayor. If your Spanish is good, there are also sections on the history of the festival, on how the fallas are made, and even a model of mascleta (pyrotechnics). A 10 min video will show you all the major aspects of Las Fallas, from assembly and costumes to fireworks and the night of burning.

This museum is right by the City of Arts and Sciences for your convenience.
MUSEUM CONTENT
Viewing time: 50 min
(approximate)
What it is about: Las Fallas
In Detail: ninots (figurines of the fallas), history of the festival, how the fallas are made, how the fallas have evolved, video of the festival.
Presentation: ninots (figurines), photos, text boards (in Spanish), posters, portraits, models, video.
The building: formerly a monasterial complex, later a military prison, the building is currently owned by the Fallas Committee and includes a cute church worth a look.
---
MUSEUM SERVICES
There are no guides or brochures. Various literature about Fallas is on sale.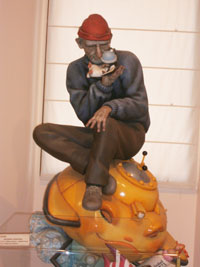 GENERAL INFORMATION

Paginas Amarillas
Plaza Monteolivete, 4
CAS
Near: CAS
96 352 54 78, ext. 4625

Tue - Sat
10am - 2pm / 16.30 - 8.30pm
Sun + Hols: 10am - 3pm
Monday closed
Languages
Museum Content:


Brochures:
not available but also not needed - the museum is very visual
Guides:
none