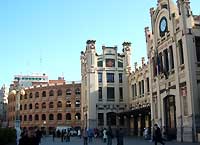 The Bullring and the Train Station are coupled because they are right next to each other and if you see one you migth as well see the other.

The Bullring has been the centre of Valencia's bull-fighting for almost 150 years now. It is a large, impressive structure in the style of a Roman Coliseum but employing Doric ornament (the traditional Ancient Greek style). With only the ring itself measuring 52 m in diameter, it is much larger as a whole, with 4 levels of colonnades and ballustrades. Inside, the ancient Spanish culture breathes at you from the sand of the ring. However, access to the interior is via the Bullfighting Museum only. When there are no bull-fights the bullring hosts an occasional fair, concert or circus, and closes the rest of the time.

The Train Station, lame as it sounds, is actually a very interesting building worth popping into if you pass by. Built in 1917 with Neo-Gothic influence in the structure, it hosts an entire caleidoscope of typically Valencian mosaics and ceramics on the themes of Valencian countryside, making it a glimpse into the local culture.
SERVICES
The history and plan of the bullring can be looked into at the Museum of Bullfighting.

Paginas Amarillas
C/ Xativa
Centro
Bullring web

Bullring - access to the interior via the Museum of Bullfighting. Train Station - always open.

free entry to both
Languages
Signs / Content:



Brochures:



Guides:
none

Map of Central Sights
Map of Central Walks